Deerfield Beach Fishing Pier
N Ocean road
Deerfield Beach, Florida
Phone: 954-426-9206
LIVE PIER CAM BELOW
The International Fishing Pier will open to the general public from 6 a.m. to 8 p.m. daily for fishing only.
Social distancing of a minimum of 10 feet between anglers must be maintained.

Visitors are encouraged to pre-register to fish at the pier using the City's daily online/call-in registration system.

Fishing sessions shall be limited to four hours, with each session subject to a maximum of 25 patrons on the Pier at a time. Patrons fishing at the International Fishing Pier shall fully comply with the CDC's social distancing guidelines and face coverings shall be worn on the Pier at all times.


Deerfield fishing pier is mainly sand all the way out . The fishing pier is known for its Large Catches like King Mackerel and other large species of fish that you would normaly find in deeper water. They also use Trolly Rigs most of the time off of the tee, I have heard the gulfstream juts in and helps to supply the fish they catch ????

Beginning of pier
Croakers, Gulf kings "whiting", sometimes Mangrove snapper can be found in the first section of the pier, snook can be here also.

From the middle house out
Mackerel, Cobia, Snook, Bluefish, Bonita, Kingfish, Big Jacks.

Typical live baits are Pilchards, Sardine,Blue runner, Mullet, Croakers, Mojarras.
For bottom fishing Live bait or cut Mullet, Shrimp, Pichard, anything dead on bottom rig, nocker rig, chicken rig.

Before and After tropical Storms can produce Mutton Snapper and in the range of 1.5lb to 12lb (I am not kidding)
After the first hard NE wind you need to live line a live bait(Blue runner, Big Mullet, Big sardine or ANYTHING YUMMY) key is to get live bait out as far as you can on a kite, float device??? and just chil,l special creatures come by to feed believe me you may get a once in a lifetime catch. (40+lb Smoker King, Sailfish, nice size Blackfin Tuna and even a Big African Pompano)
Donations are Greatly Appreciated
The fishing info is supplied free of charge.
Location Info
Due to Covid19
The International Fishing Pier will open to the general public from 6 a.m. to 8 p.m. daily for fishing only.

Hours of Operation

Open from 6 AM to 8 PM daily

(Residents Only)

Pier Rates

No Sightseeing due to Covid19

Fishing $4

Rod Rental $16, plus $25 refundable deposit

Frozen bait

Lighted for night fishing

Rod rentals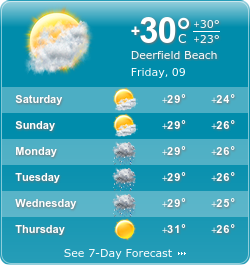 Get the tide for this area
Deerfield Beach Area
Common Catches
Snapper "All Year"
Snook "All year"
Pompano "Spring and Fall"
Cobia "Spring and Fall"
Permit "Spring"
Blue Runners "All Year"
Bluefish "Spring, Fall, Winter"
Mackerel "Spring, Winter, Fall"
Croakers "all year"