We got to Long Key at 6:30 am or so, passed by the South Florida Shark clud crew (they were sleeping)...setup to catch bait the wind was about 15 to 20, the water was nice and milky, little seaweed, incoming tide, and nice current not too strong. Saw some sharks maybe bulls under the bridge behing my chum slick so we took out the 9/0 set up with a balloon and put out the porgie from 2 weeks ago at Anglins 30 minutes later a nice shadow circled the bait so Crabman got prepared and put on the belt then another shadow comes rapidly and swoosh. Crabman was having fun and arms were hurting from trying to get the shark from the pylons. The shark was fighting with fast runs but slowed down. A guy from the Shark Fishing club (sorry forgot name and nice talking to you guys) came by and thought it was a bull, he assisted me with my camera phone (just got it) since I left my camera at home (thanks man). After a bit longer Crabman managed to bring it in closer I thought it was a nurse because of the tail but then it turned once and I was able to see a nice U shape mouth.
Some guy came by and was like hey man if I bring the shark in the bridge can I keep it? I want it for my family we like shark, I said sure go ahead. I thought this guy must have a huge gaft since the shark was at least 6 feet long.....HAHA he takes off his shirt and starts to pull on our line, the shark went under the bridge and the guy snapped the line trying to pull it up.
After that Crabman caught 2 macks and we swam one out the sharks kept circling it and my almaco jack head on the other rod but we had no success.
CHRIS and HammerHD came later on, nice seeing you guys. They saw a hammer then they hooked up a nice size shark looked like a giant nurse fighting slowly but can't say. They caught it on the bottom with a small grunt head....they had a hell of a fight on 30lbs test and got the shark away from the pylons a couple of times, nice work on that, until it broke the Owner hook.
I thought I had a bunch of pics but was only taking snaps of my own camera and my finger..LMAO
Crabman fight using the Stump Remover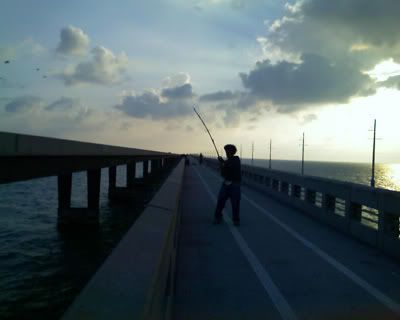 The shark?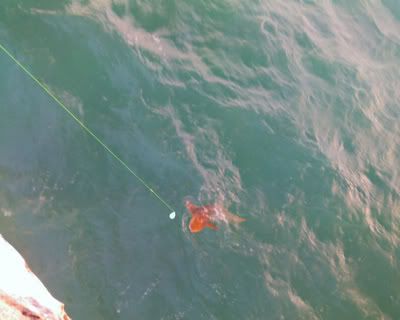 CHRIS and HammerHD's hook broken off.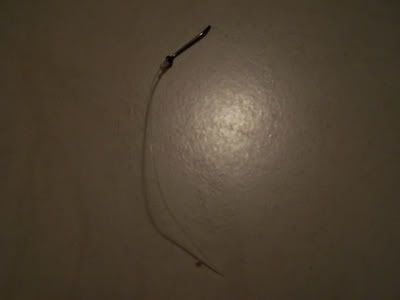 Maybe next time we will get the bulls but will do it on the outgoing tide.