Title says it all guys, just wanted to lend a helping hand for any Anglers who have a bit of a struggle when trying to Hook a Crab for bait or anyone new at the Sport who has come across this and wants more insight.
Along with my basic and simple advice for you guys are some Pictures to go along so you can see what I'm talking about and help you through the process. Keep at it everyone, Tight Lines.
First off just like with Live Bait, Cut Bait etc, Match your Hook Size with the Size of your Crabs.
All the Spots where I have suggested to Hook a Crab are through the Actual External Top Shell of it due to the fact that, it is where I find it to stay put the Best.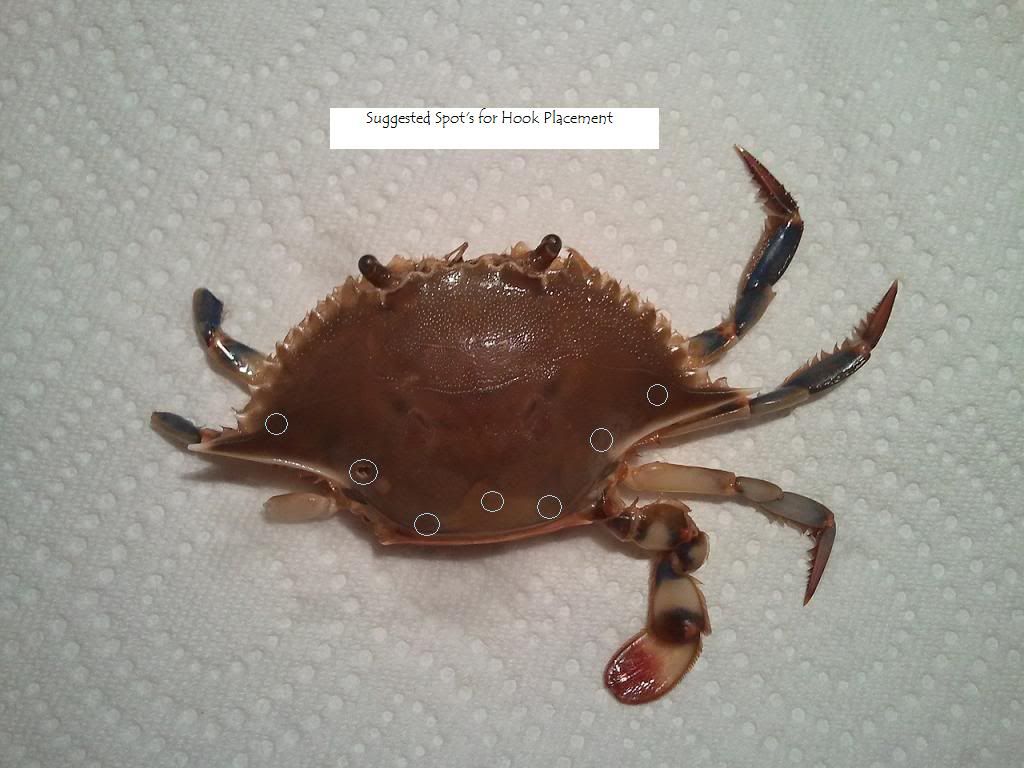 Here I will show you where I have Hooked the Crab from a Previous Trip so you can see the initial idea of what is going on.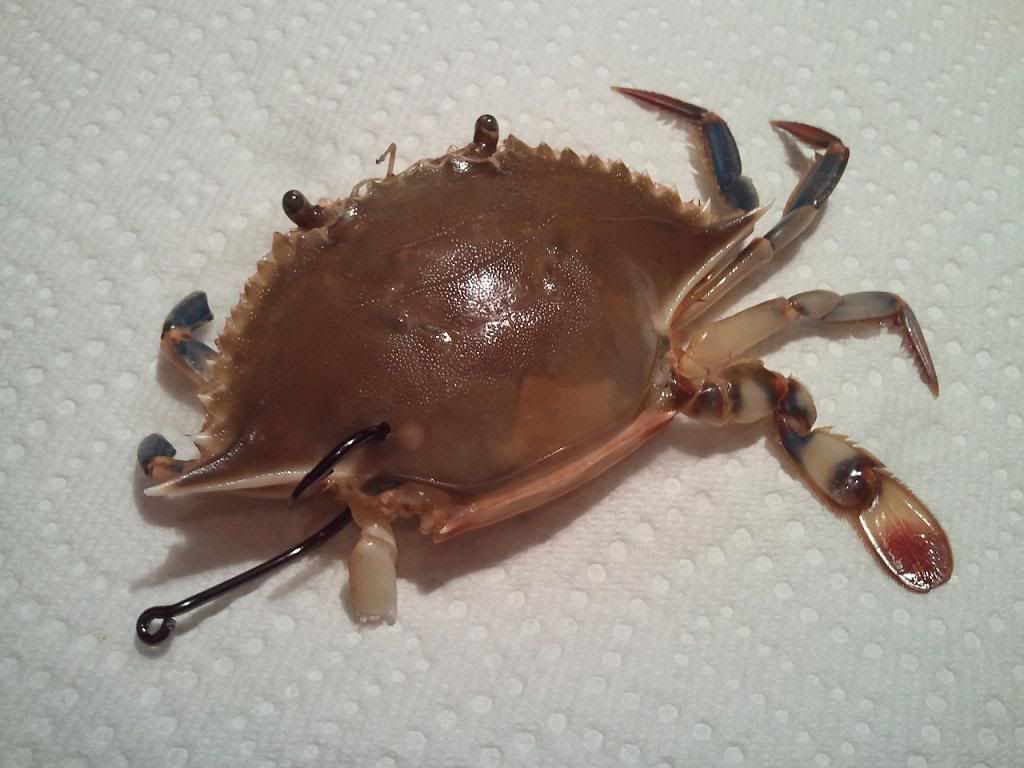 Next is a picture that has to do with Presentation. Just like Live/Cut Bait, Presentation is Key and I believe does play a Roll on success in catching Fish, so with that said we always want to avoid a Cracked shell when Hooking your Crab. Besides the fact that it does not look more natural or cleaner, with the Current or natural movement in the water, with a Cracked shell and wider space for the Hook, the Hook can actually dislodge from the Crab leaving you with nothing on your line.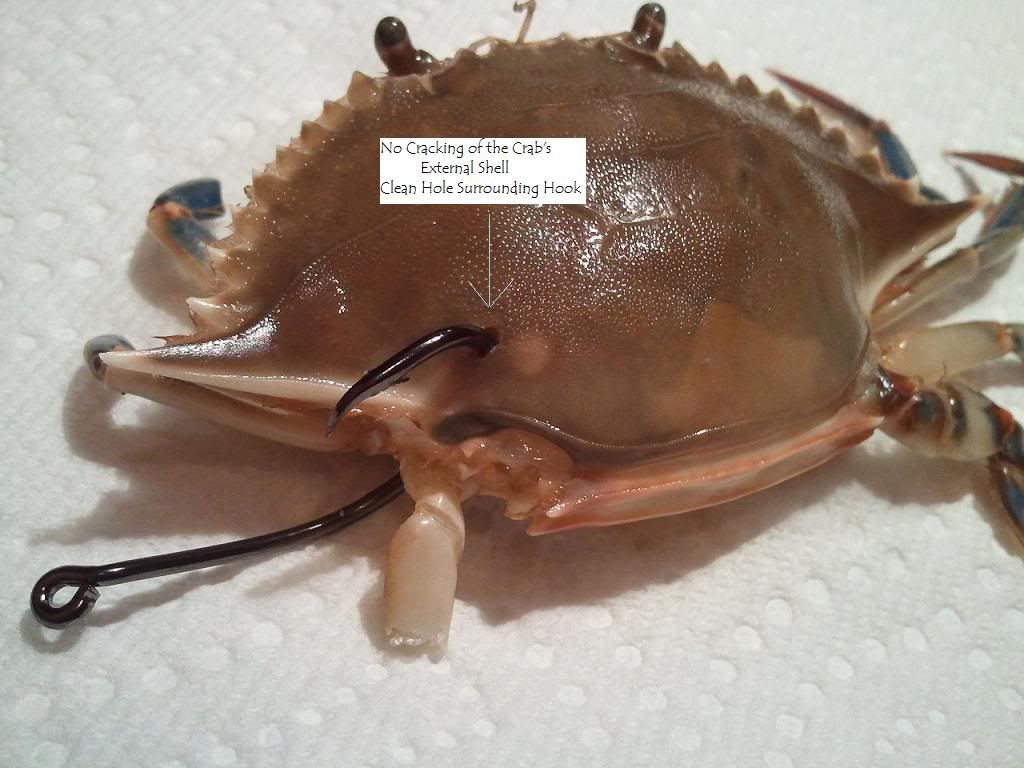 Next I'll guide you through the simple steps to Hooking the Crab so you can be on your way to getting your gear in the water and be ready for the hit!
My biggest piece of advice and suggestion to you all when doing this is to take your time, if not it will not go well and you will end up with a Cracked shell. Remember, once Crabs have been taken home, Frozen, Then thawed out, the top shell before more brittle therefore you need to be careful when going out there and doing this. With that said, always apply pressure with two fingers (or whatever is comfortable) to the top shell when proceeding to penetrate the Hook through as shown in the picture below.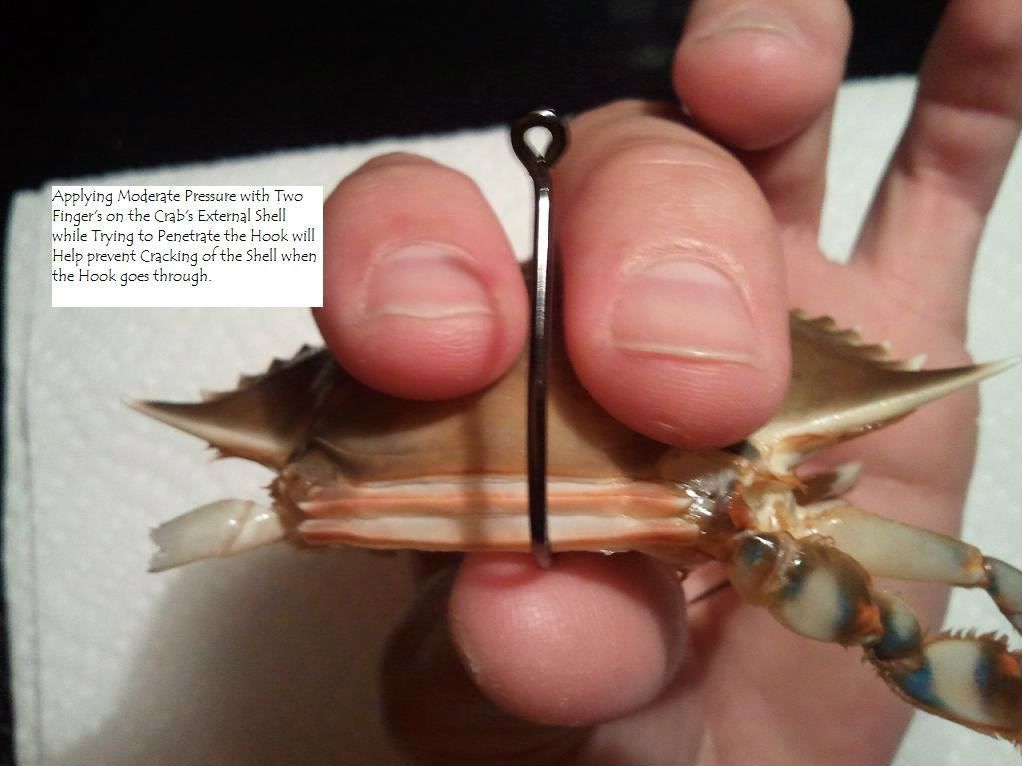 Once you have started that, take a look at the shell and notice where the tip will be penetrating. You will see a whiteish mark in which is indicating that you are almost there to get through. Check out the picture below and you will see for yourself.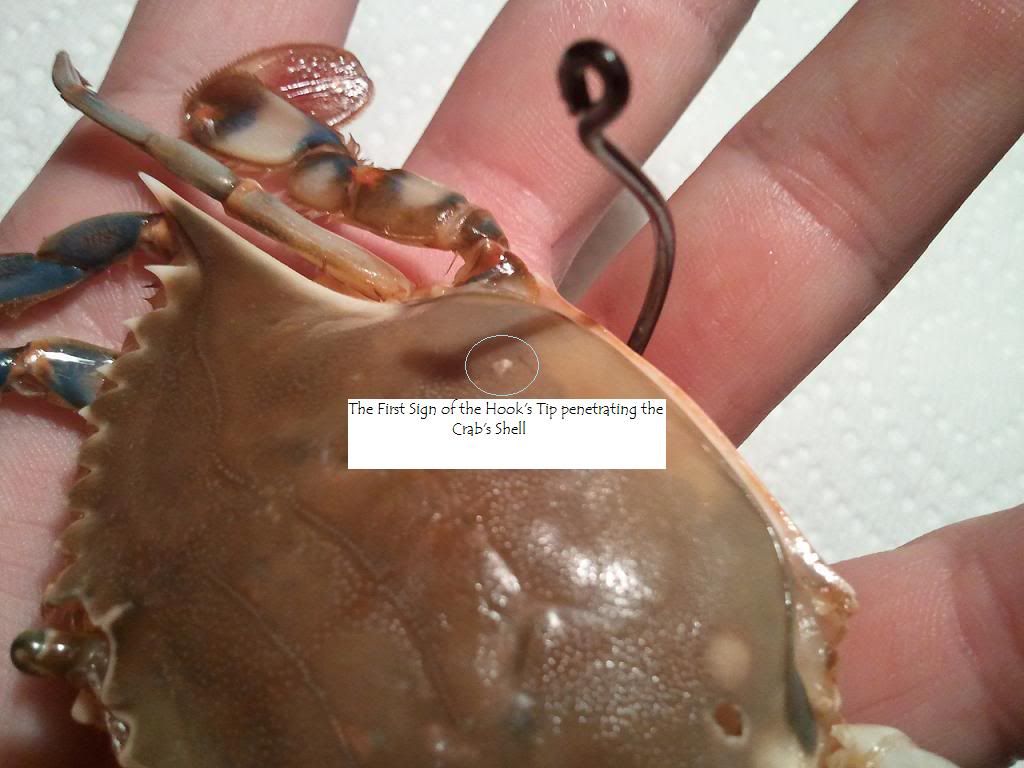 Next, continue applying pressure until you get through and you are pretty much on your way. Once the tip of the hook breaches the top side of the shell, here is where the pressure drops some, and instead of forcing it through, you want to carefully move the hook in a back and forth motion to create a slim space so that it finally makes it out.
Here is where the Hook is pretty much on its way out.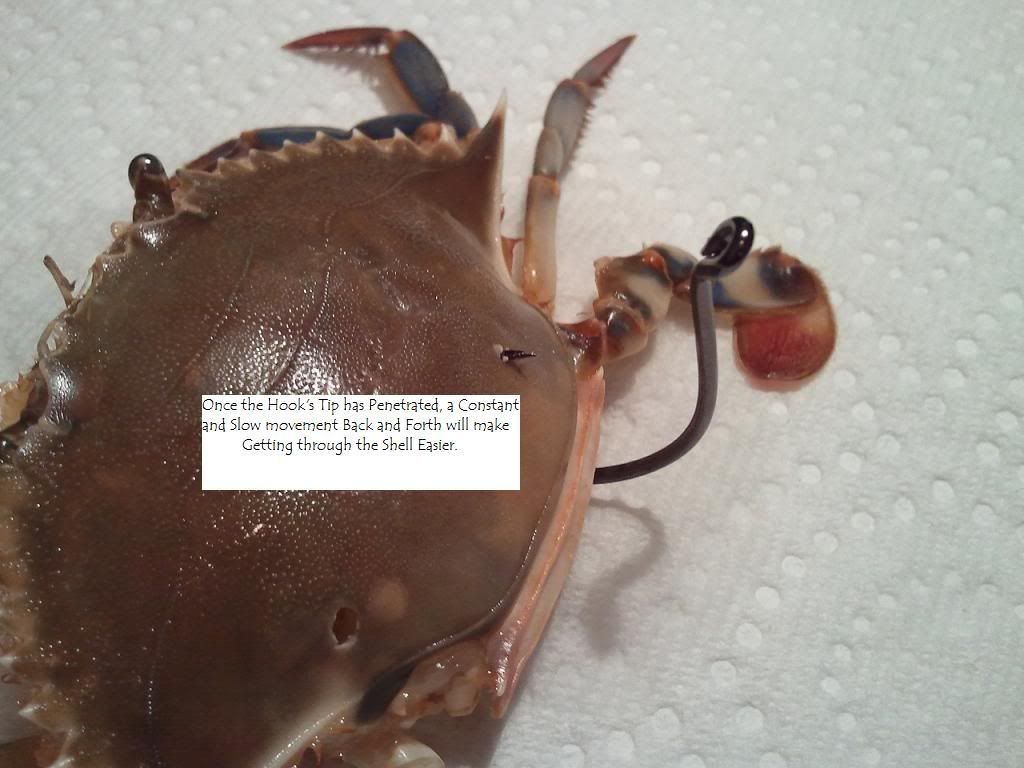 You always want to go along the curvature of the Hook you are using so it makes it easier on yourself when Hooking a Crab for bait. Here is a final shot of the Crab Hooked through the Rear and you are all set!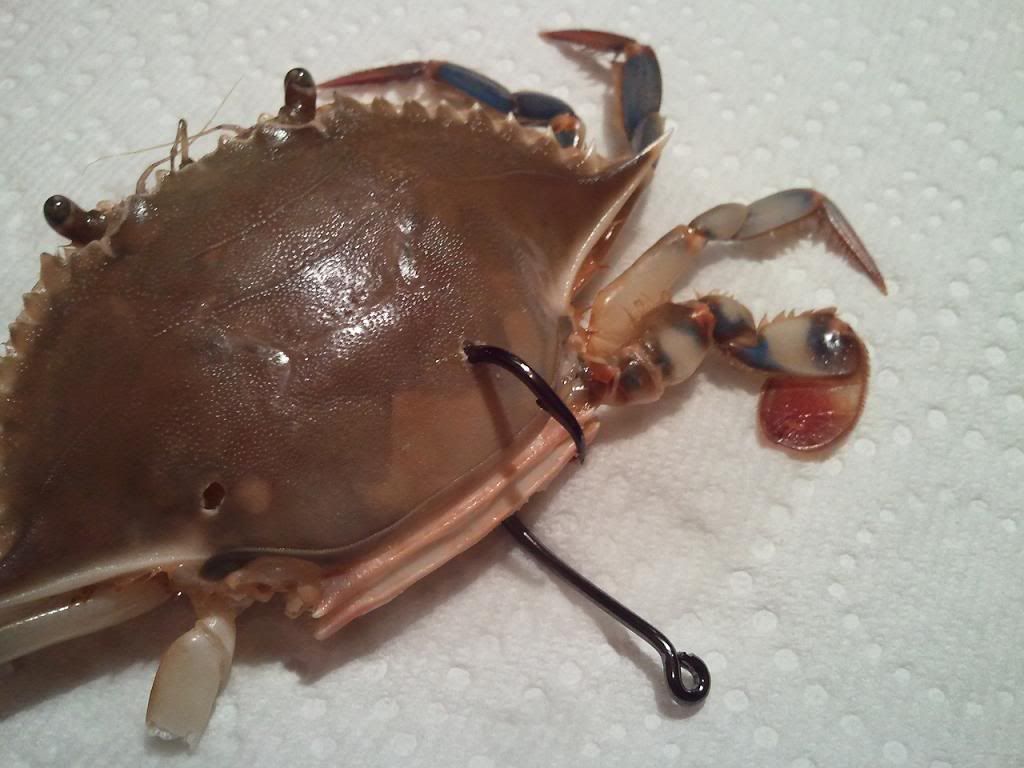 Hope you guys found this helpful, any feedback or added suggestions would be greatly appreciated, if anyone needs any further help let me know.