A while ago, I was looking at some members' Life List on Roughfish.com. One member, Pat, had caught both the Cobra Snakehead (in Florida) and the Northern Snakehead (in Virginia). We started chatting about techniques to catch snakehead...and before I realized it, we were chatting about making a trip to Virginia for snakeheads!
I didn't really envision making the trip so soon, but a number of things fell into place nicely and I was able to plan a weekend trip at a very low cost. Yeah!
June 28, 2012
At 11:30pm, I boarded the Megabus toward Washington. The journey was supposed to last about 12 hours, but we were held back at the border for 2 hours. For some reason, our driver was not allowed to cross the border and we had to have two new drivers come from Buffalo. Also, during a mid-trip break, one passenger boarded the wrong bus and we had to turn around to pick her up. We were late for a total of 2.5 hours...which was a pretty bad start to the trip.
June 29, 2012
Finally, at 1:30pm, I arrived at the Union Station in Washington DC. I quickly took the Metro to the airport to pick up the rental car, but with a departure time of 3:30pm, I was stuck in the terrible DC area rush hour traffic. Sigh...I just decided to relax and take it easy on the drive.
At 6pm, after a stop for food, ice and bait, I arrived at Point Lookout State Park in Maryland. I quickly found out that they do not allow sleeping in the car at the campsite...so I had to buy a tent (the only one left at the camp store...whew...talk about lucky!!!) With things sorted out, I quickly set up camp...only to find that the site had a hard gravel ground where the tent pegs just can't even be pounded in. In the end, I just tied the tent to the picnic table and to the fire pit ring.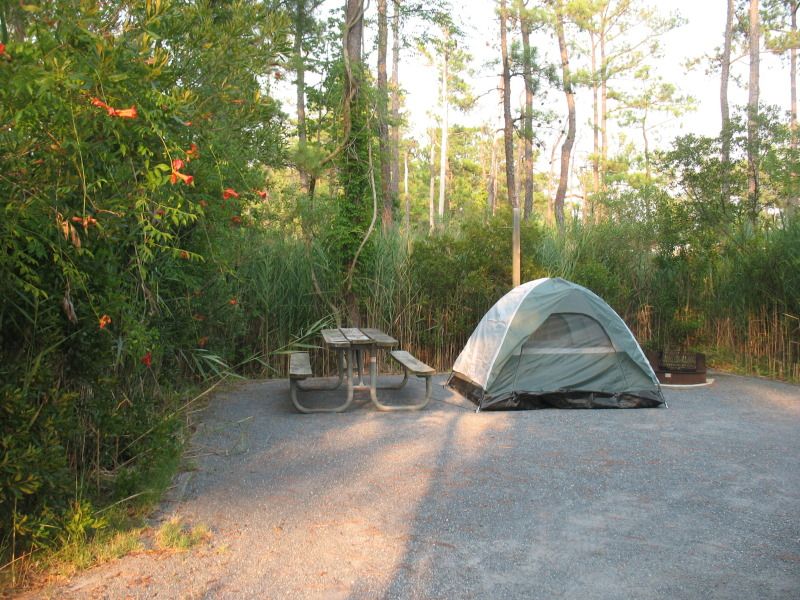 At long last it was time to head to the pier! The tide was filling in so I was in a hurry to get fishing before high tide sets in.
The late evening sun was setting as I cast out the first line.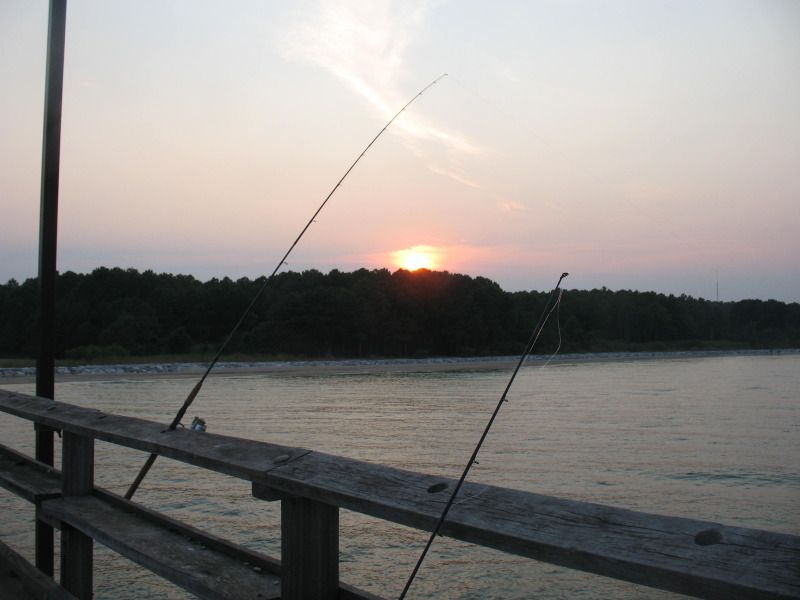 I was using a 9' salmon/steelhead rod that I use for surf fishing. It was paired with a 4000 size reel with 30lb braid mainline. I used 15lb mono and #8 baitholder hooks to tie the high-low rig. I started the night using bloodworms for bait.
Here's where the epic species started. There was a chance that I could catch a Summer Flounder, but I didn't expect it on the very first cast! Here's a picture from one of the three flounders I caught on this trip. Here's species #216 - Summer Flounder (Paralichthys dentatus).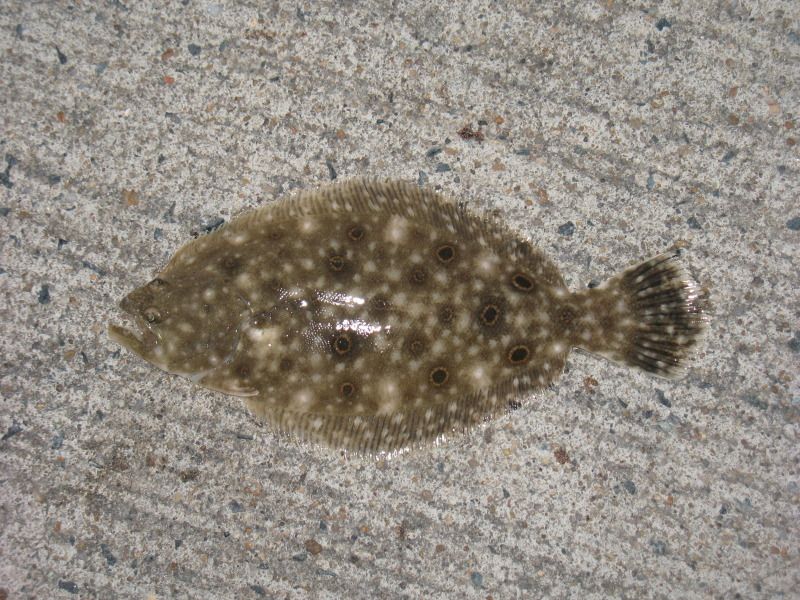 I was a little worried about the famous first cast curse because it was dead after that first fish. However, as the sky got dark, the hoards of Spot begain to bite...and I checked off another important target! Species #217 - Spot (Leiostomus xanthurus). I used another picture of a Spot I caught the next morning...the night time pics were just not that great.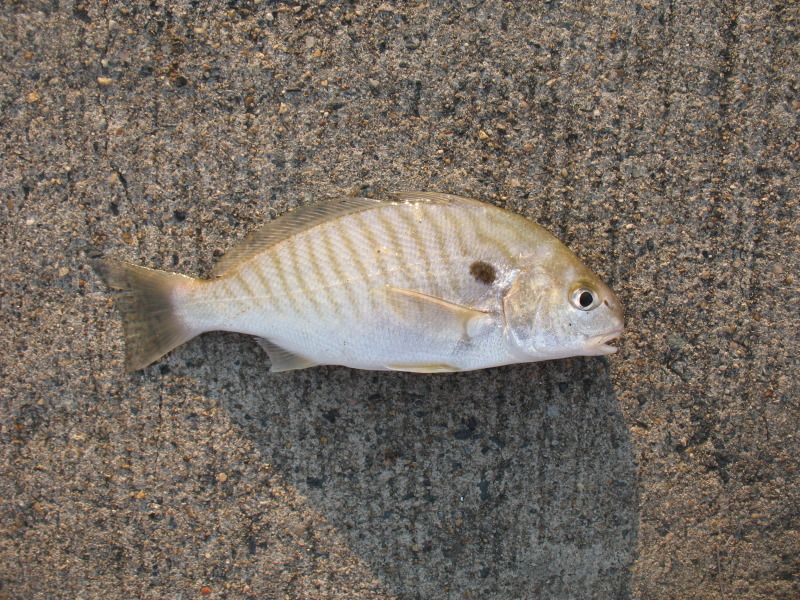 Among the tens of Spots biting, I found a fish that put up a little more fight. It was a puppy drum about 9". I've caught Red Drum before, but they are always fun.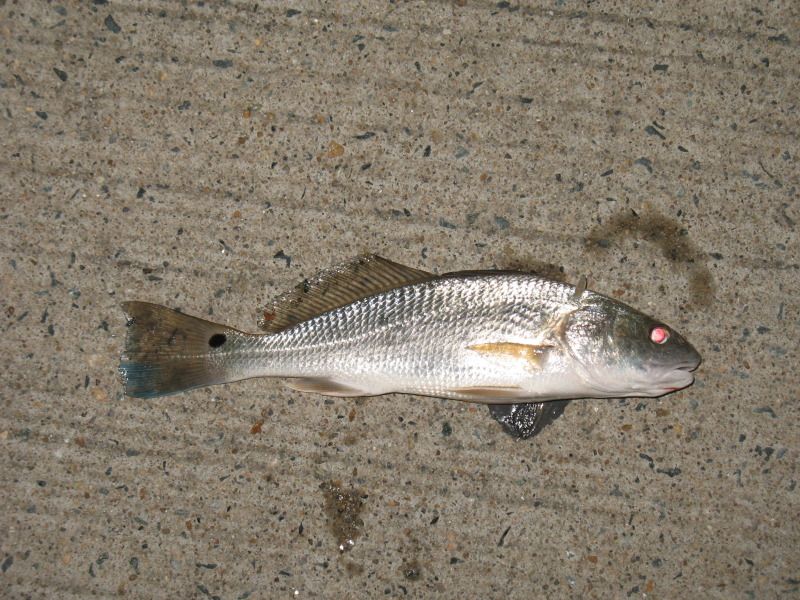 I kept a couple of smaller Spots as bait since I was told the Bluefish will start terrorizing the baitfish after dark. Like clockwork, they appeared and you could hear some bluefish blitz occurring every several minutes. Sometimes, you could see a Spot jump on the surface trying to get away from a bluefish. Using cut Spots, I landed about 6 bluefish. They didn't really want a mug shot.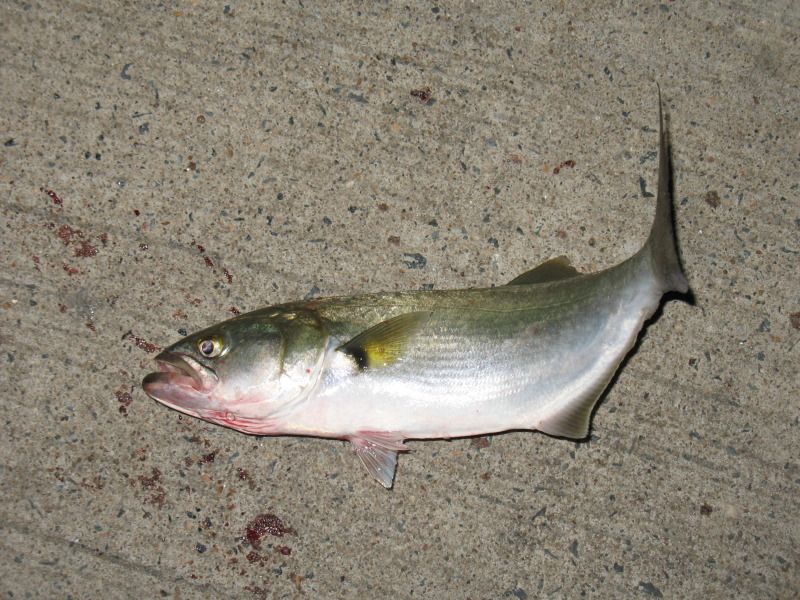 I was fishing hard hoping to find an Atlantic Croaker, however, the Spots and Red Drum kept biting...and even this little linesider came in to spoil my quest! Even at 12", this Striped Bass gave a good accord of itself.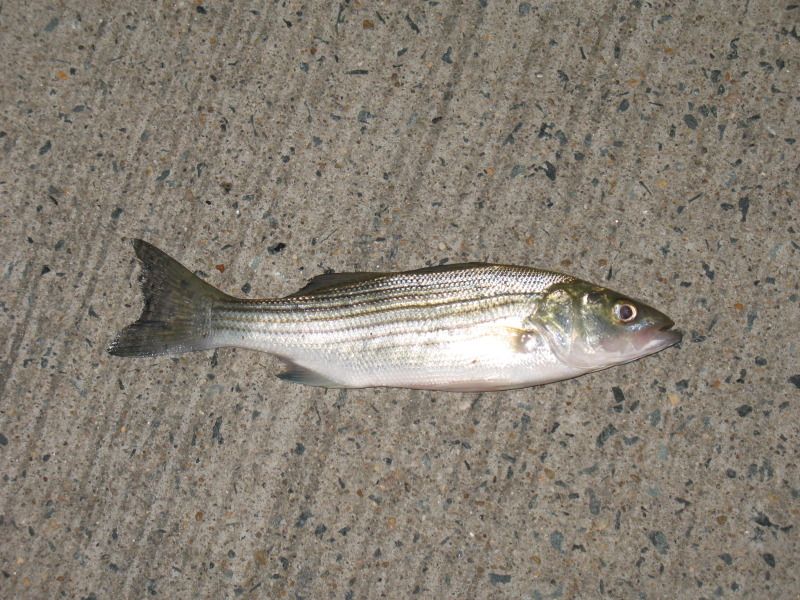 Before long, we saw some flashes of light in the distance. At first, we thought it was just pre-July 4th fireworks...but soon, the light show got closer and we could hear thunder. The wind picked up really quick and we were forced off the pier. I ended up driving in horizontal rain and had to dodged a couple of times to flying broken branches. Pine cones were flying sideways!
Instead of sleeping in the tent, I ended up sleeping in the car afterall.
I was worried about trees crashing down and lightning strikes. There were so many lightning strikes that the sky looked blue constantly!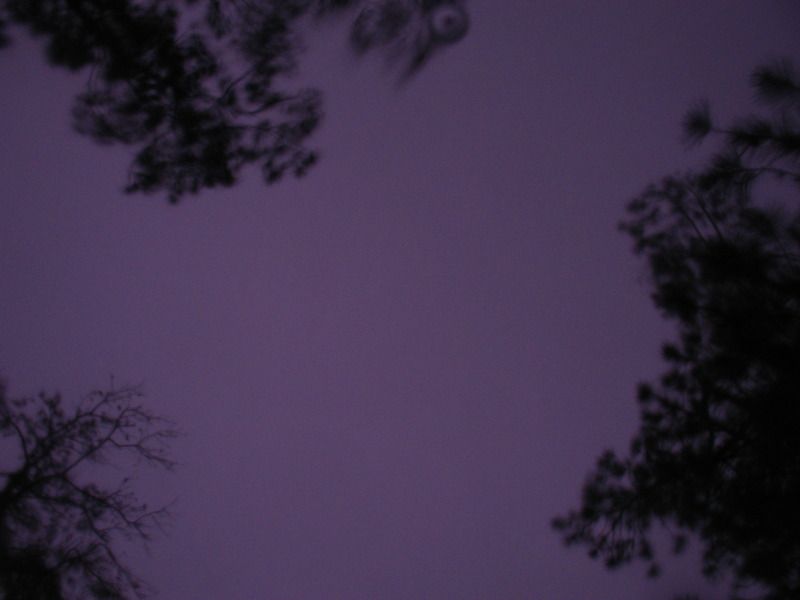 June 30, 2012
After a night of storm, I really didn't know what to expect. I woke up at 5am and made my way to the pier. Surprisingly, the sea was very calm. I didn't know if the fish would shut down, but my first cast yield my target species! This was another picture from one of the three Atlantic Croaker I caught that day. They only bit for an hour between 5am-6am. Species #218 - Atlantic Croaker (Micropogonias undulatus)
The fishing was slow to begin. It was low tide at 4am and the tide was just starting to move. As the current got stronger, the bite improved. There was all-you-can-catch Spots...but after a while, it got a bit boring. I was looking for new species but it was just Spots.
I poked around a pier piling to see if I can find an Oyster Toadfish...but instead, I found a school of juvenile Striped Bass. It was Striped Bass on every drop and I even had a couple of double headers on the same rig!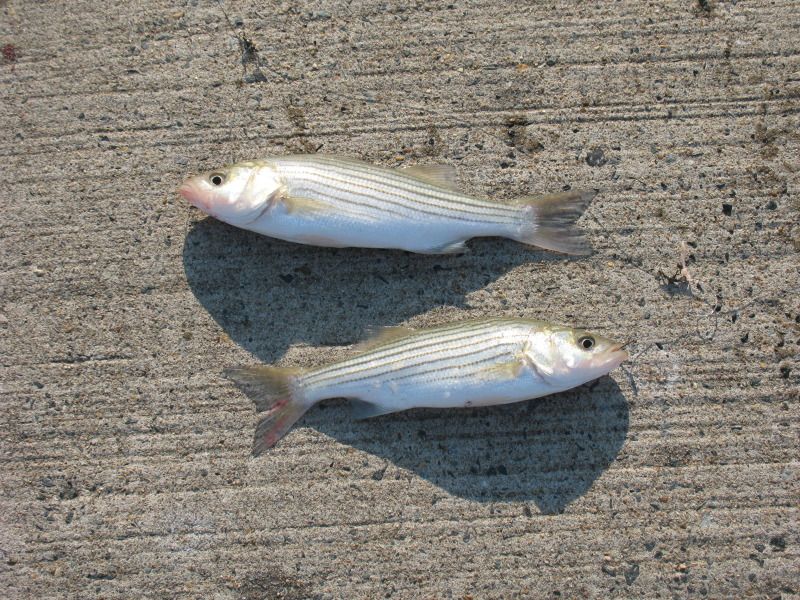 The best thing of all...I had it all to myself!!!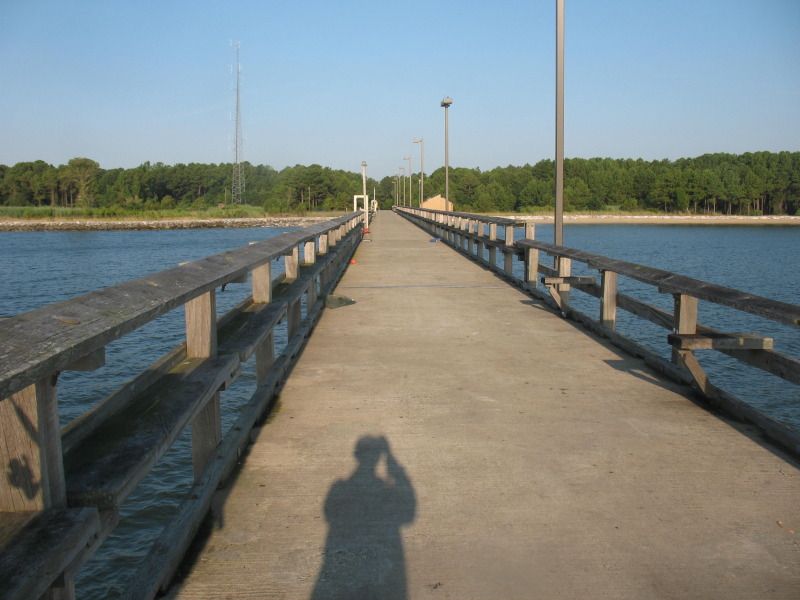 I was soaking half a Spot because these guys were around. The Cownose Ray were spawning and you could see either a single pair or a group of 5-6 circling each other.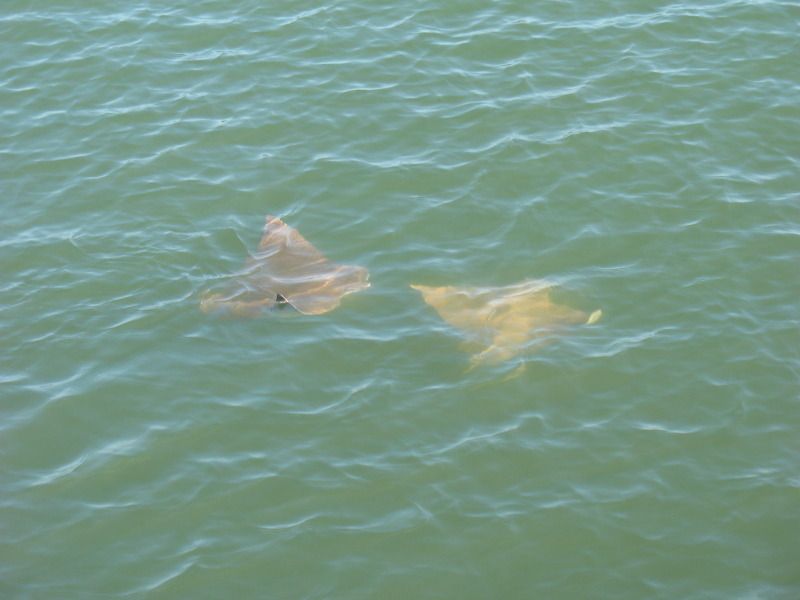 After the Striped Bass bite dried out, I noticed a number of small silvery bait fish in near the piling. I thought they may be Silversides...and indeed they were! Species #219 - Atlantic Silverside (Menidia menidia). The thought of using them for bait strangely didn't cross my mind...who knows...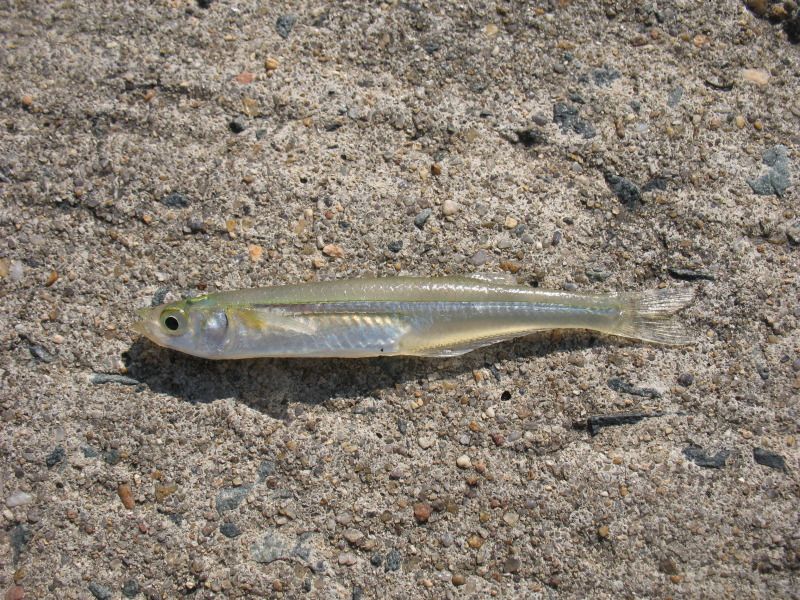 At about 11pm, nothing was really going on...so I went inshore to check out the beach area. I noticed 5-6 large rocks that jutted out from the rock jetty protecting the shorelines. It was just covered by the water. I sent out a test cast to see if there could be Oyster Toadfish hiding near the rocks...but instead, it was a puppy drum fest for an hour!!!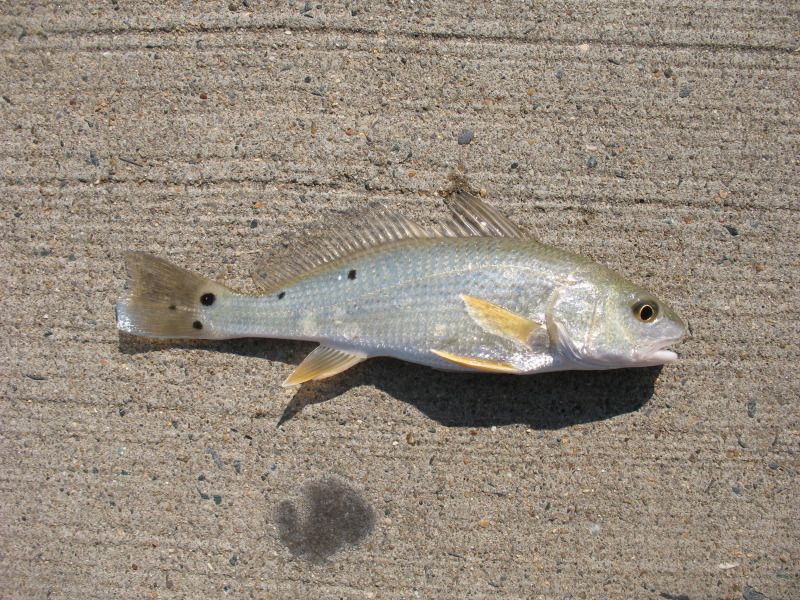 Again, it was so crazy that I had a few double headers on the same rig...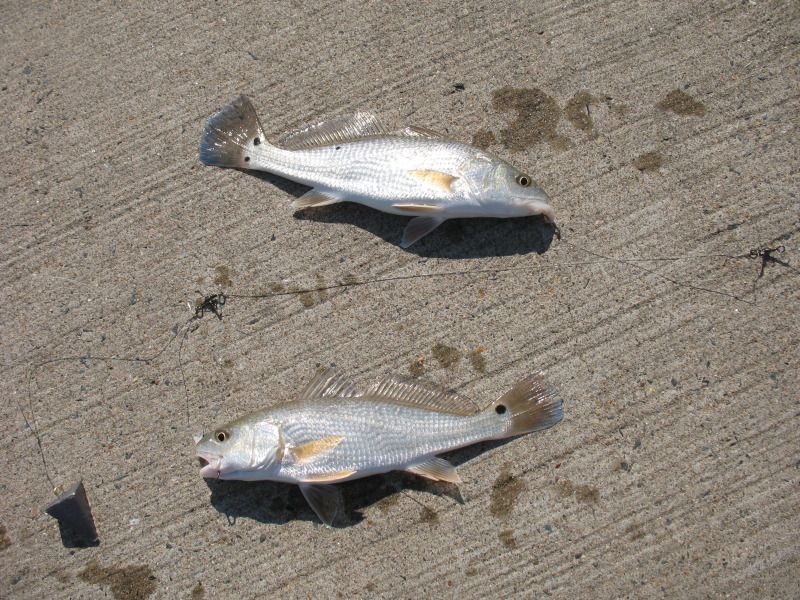 And this was the biggest of them...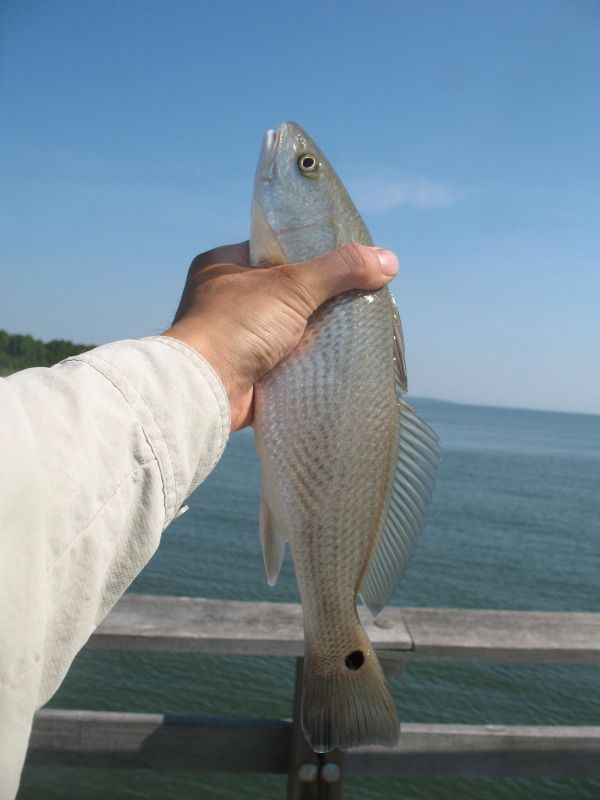 It was getting very hot by 12pm. I was going to head back to camp, but I passed by this marina on the way back and found a little marshland with a lot of smaller baitfish.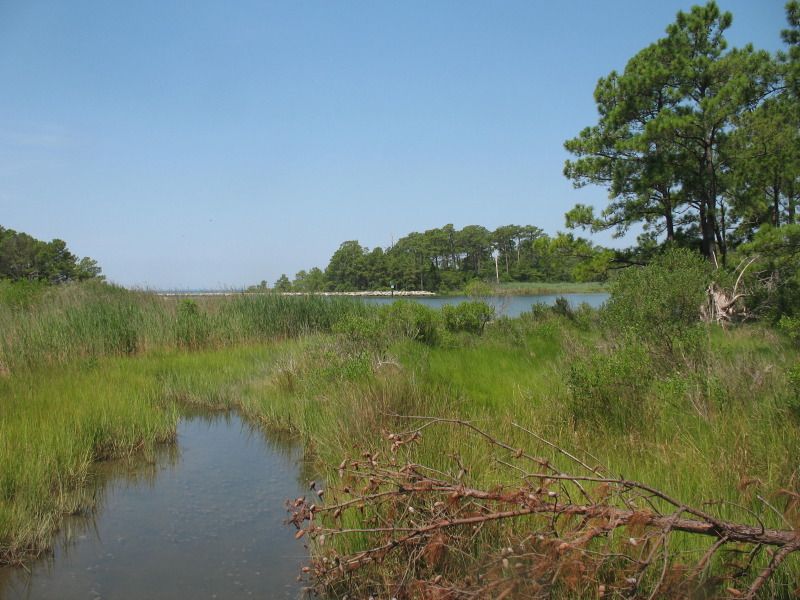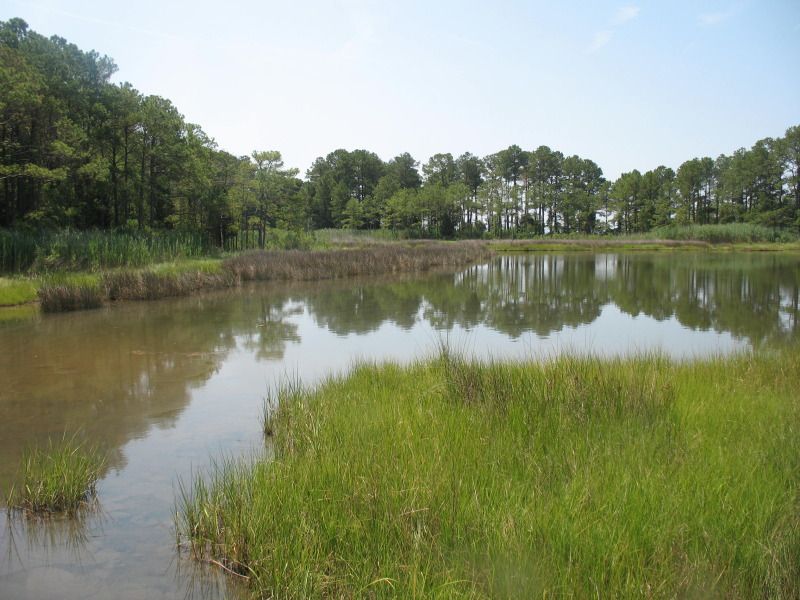 There are a few smaller species that I wanted to catch. Using #20 hooks and 2lb line, I quickly found a Species #220 - Striped Killifish (Fundulus majalis)!
Female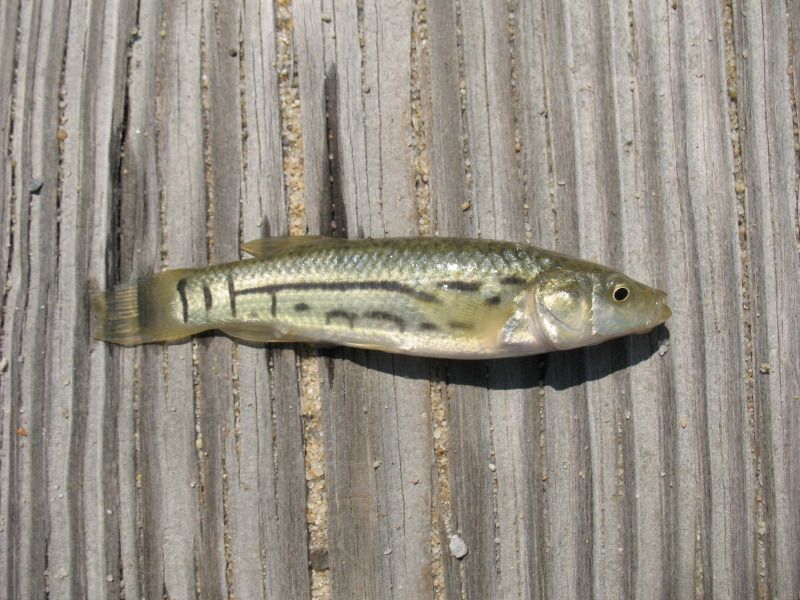 Male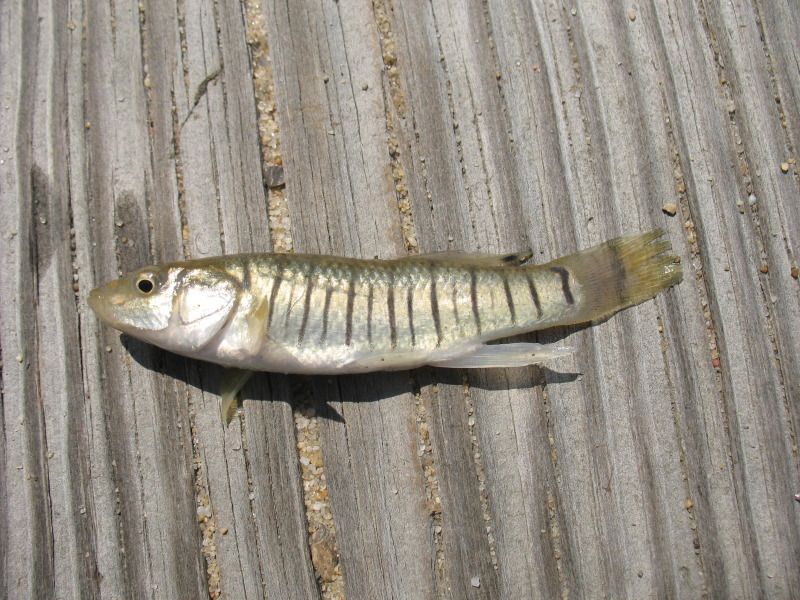 There were a lot of cool little Sheepshead Minnows spawning, but they just couldn't be bothered with squid, bloodworm or bread.
However, the Mummichog were very aggressive. I had to upsize the hooks since they kept swallowing them! Species #221 – Mummichog (Fundulus heteroclitus)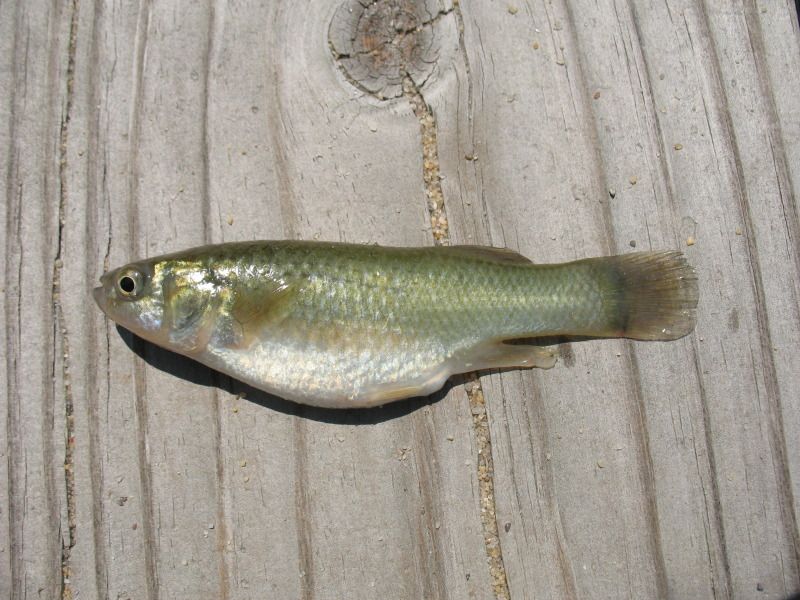 After catching a few of them, it really was too hot to stay out much long It was hot all weekend in fact. None of the days were below 105F...and the night was no cooler than 80F. I had trouble sleeping the night before in the heat, so I thought I'd get a bit of sleep during the day. I moved my tent under the shade of the tree. When I moved my tent, I found two Mud Turtle hiding under my tent.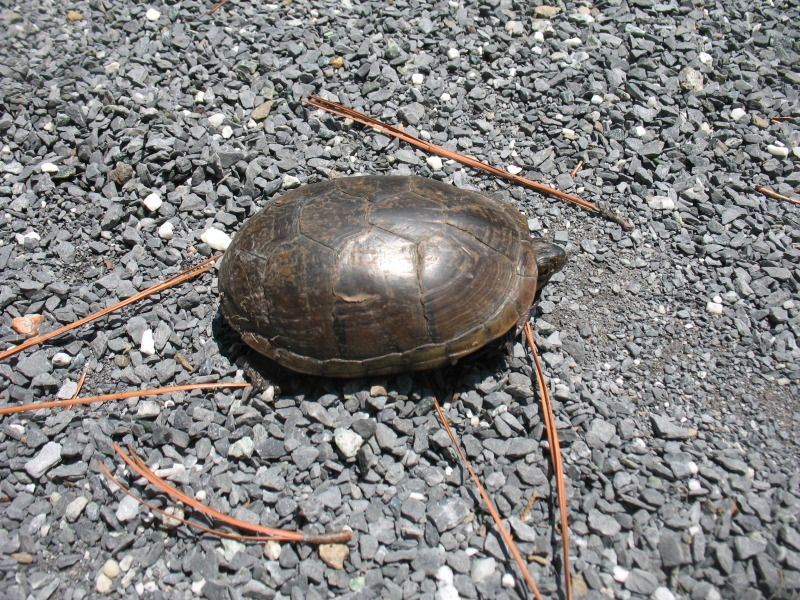 I think I only got a hour of shut eyes before it was way too hot to sleep. Instead, I went to check out the Civil War Museum and Marshland display to catch some A/C
I did learn that Point Lookout served as the largest prisoner encampment and site of a major hospital during the Civil War. There was quite a bit of artifact from the war.
At about 4:30pm, I decided to head to the pier and fish some more…since I can't sleep anyways.
The pier had a few people. The bite was almost non-existent. Even the Spot was not willing to bite. Instead, I cast out a whole squid on my heavy rod to see if the Cownose Ray wanted to play.
While soaking the squid, I went to the set of rocks by the jetty to see if the Red Drums were around. On my first cast, I thought I had snagged one of the rocks. I pulled on it a little and my line budged a little. I had a small bite and I went to set the hook. Again, it felt like I had snagged bottom. I tug on it again, but this time, something started to pull back.
At first, the fish pulled pretty strong, but nothing that made me thing anything else but a big Red Fish or Atlantic Croaker. However, the fish soon picked up speed and I could feel some very big head shakes!
As the fish screamed off half my spool, I had to start following the fish down the pier toward deep water. About 100 yards off the pier, I saw something surfaced and it was a big Cownose Ray! I thought…NO WAY! That's can't be my fish! But indeed it was…and it was heading to the ocean!
With a quarter of my spool left, the fish suddenly slowed and then stopped running. We were at a dead stalemate. I thumbed the spool to stop the fish from gaining line, but at the same time, I could not put line back on the reel. At this point, I started walking backwards slowly and started pulling the ray back. Inch by inch, I started to gain back some line. With every two inches gained, the ray took back an inch. It was about 15 minutes of slow lift and fast crank to gain some line. At long last, I had the fish close to the pier and in shallow water of the beach. I was chatting with a guy from Florida earlier and he volunteered to leader the fish to me. We had the fish in about 2 feet of water. I had my hands fully occupied so I couldn't take any pictures of the ray in shallow water
As soon as the guy put a little pressure on the 15lb mono, the line snapped at the hook. I still can't believe how I was able to stop the ray and reeled it all the way to the beach without having the 15lb mono snapped earlier. It was also amazing that the #8 baitholder hook had held this entire time! I have new respect for my salmon/steelhead rod since it did an amazing job the entire time cushioning all the sudden wing beats the ray made. I don't think I can forget that fight ever! Too bad it was not a fair catch…because we did get it to leader and it would have counted if it was fairly hooked.
The rest of the night was slow. The storm must have messed up the night bite and there was another thunderstorm headed to us. I called it an early night at 9pm.
July 1, 2012
I woke up at 5:30am to break camp and head on the road. Before I left Point Lookout, I took a picture of the Civil War memorial.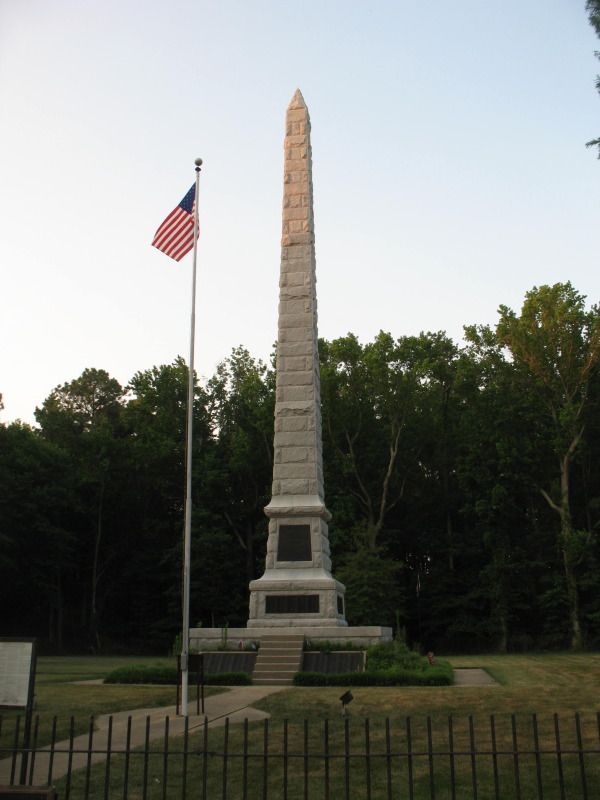 Since it was the weekend, it was smooth driving with very light traffic. I made it to Pat's apartment and we were soon strategizing the day's target.
Pat has a special spot that we would check later at low tide. However, since the tide was still dropping, we decided to fish the creek behind his apartment for some new creek species. We didn't have any bait so it took a couple of pet shops to find red wrigglers.
This creek is very shallow. In the heat, it was great to wet wade in sandals and shorts! The creek has a lot of Redbreast Sunfish…and it took all of 30 seconds to put one on my list! Species #222 – Redbreast Sunfish (Lepomis auritus)!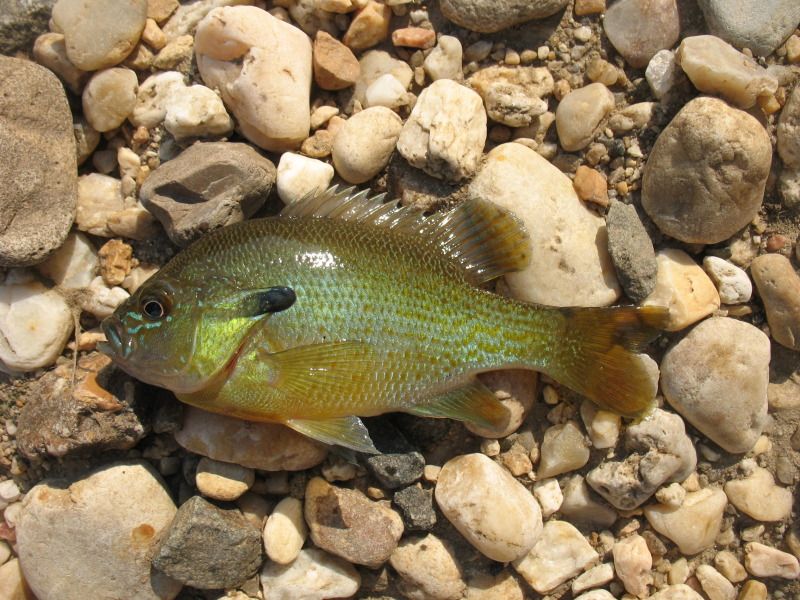 There were a lot of little minnows quickly gobbling up the bait. They were Satinfin Shiners, amazingly beautiful little fish. Species #223 – Satinfin Shiner (Cyprinella analostana)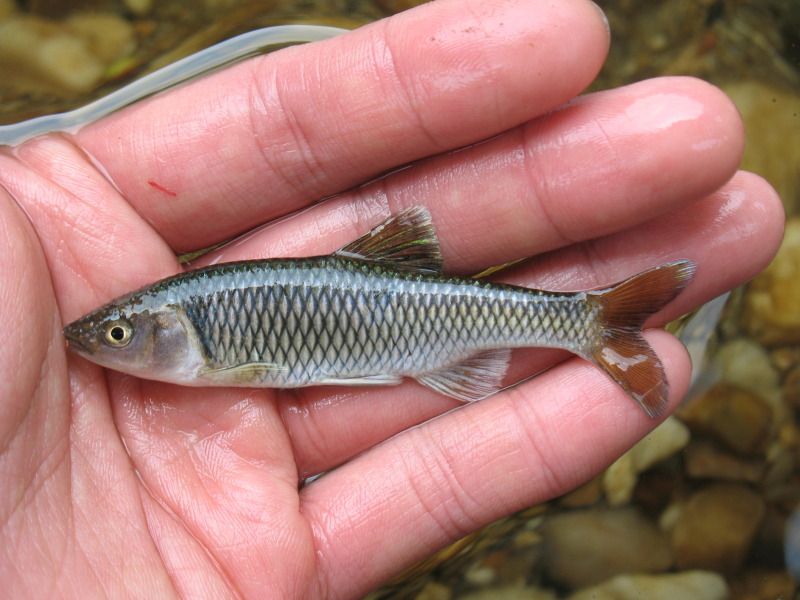 There were also a few Swallowtail Shiners (Notropis procne) around – Species #224!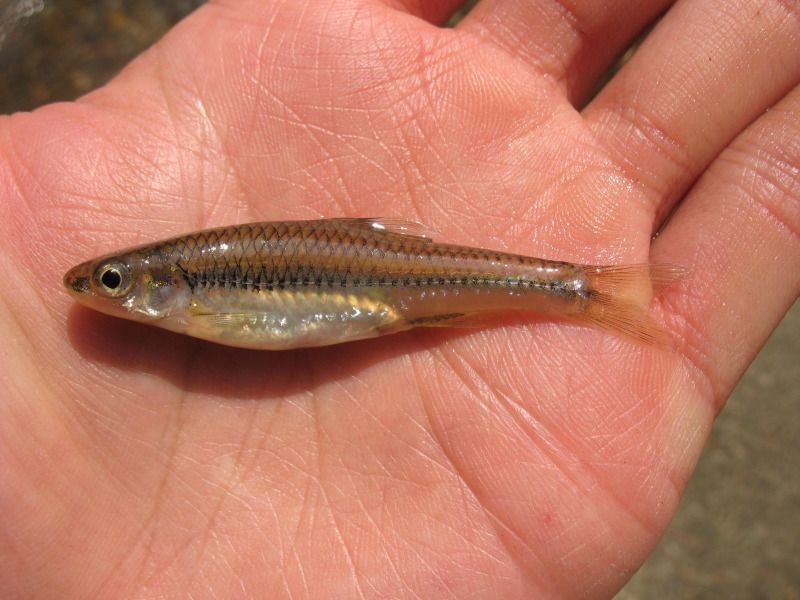 In the midst of catching Redbreast Sunfish and Bluegill Sunfish, I caught a sunfish that didn't look like either…so anything I've seen before. I think this is a juvenile Redear Sunfish (Lepomis microlophus). I have looked at a few pictures on the web and it seems most consistent. If indeed true, it would be a new species too. But for now, I'm not counting yet until verified.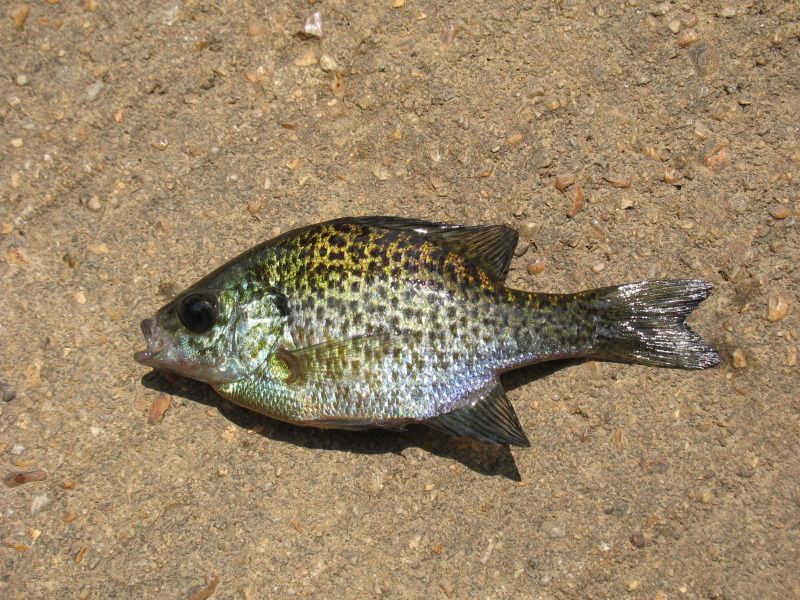 I also saw what appeared to be a Yellow Bullhead swimming among the big boulders. I had it hooked but there were a couple of branches in the way that interfered with my hookset. So close!
At 12pm, Pat said we should hit his low tide spot. I changed into swim shorts and surf booties since we would be wading at least waist deep.
We were to fish a culvert area where the Northern Snakehead like to ambush and hunt on the low tide. When we first arrive, we already spotted a snakehead in about 6" of water. However, it saw us and quickly departed. As we made a couple of cast out across the mouth of the culvert, we saw another snakehead moved in very shallow toward us. I flipped my topwater frog beyond the fish and worked it in front of the fish. The fish quickly showed interest and inched forward. I twitched the frog forward and let it sit. The fish inched forward again. As I made a second twitch, the fish rushed up and engulfed it!!!
I felt the fish on the tightening line and set the hook…but somehow the hook didn't set! Darn!!!
So Pat and I went back to casting across the culvert mouth. On my second cast across, another snakehead blew up on my frog! Again, the hook didn't set!!!
Pat went up to the top of the culvert (about 10 feet above water) and spotted a couple of 15lb range snakeheads! They didn't really want to play. We then spotted a couple of snakeheads moving up over a bunch of fallen leaves. Pat explained that the snakehead favours fallen leaves since that provide the perfect camouflage with their body patterns. We pitched out lures at them but the fish only followed. Pat went to the other side of the culvert mouth and cast outward toward deep water. A few casts later, I caught a huge jump at the corner of my eye and Pat hooked into a mad snakehead!
What an awesome fish!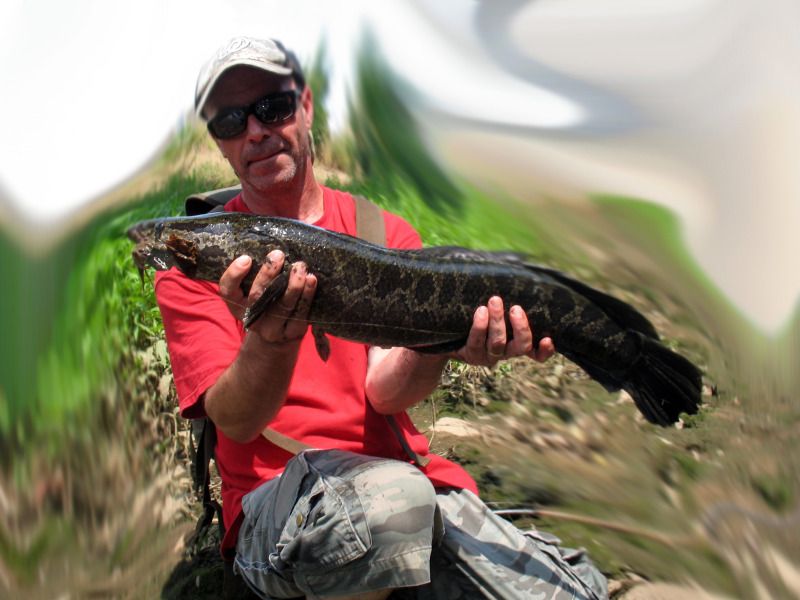 I switched to Pat's favourite snakehead lure and gave that a shot from the top of the culvert. I had one follow and then didn't spot any more fish. Pat and I traded spots and I got a small snakehead to hit but missed. On the next cast, a larger snakehead followed toward shore but then backed up after seeing me. I tried a few following up casts aimed in front of the path of travel, but the fish simply ignored the lure.
When the bites dried up, we decided to try further downstream. We got to this one spot under a few bridges and there Pat hooked into a couple of bass. I had a snakehead screamed toward my lure from 90 degrees with a huge V-wake but the fish didn't commit.
After a while, we decided to head back to the culvert for a look. Not too long after we arrived, Pat spotted a snakedhead right below our feet and managed to get it to hit yo-yoing the lure!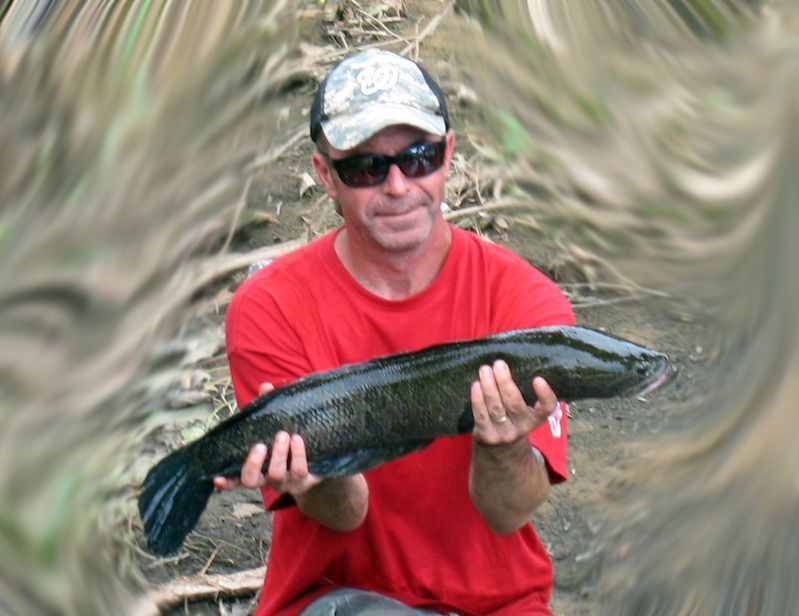 We saw a few more fish but none wanted to commit. At the end of our session, I had a snakehead sneaked up on me and I tried to jig the lure in front of its face. However, it just backed up and slowly moved away. Snakeheads are super confident fish. Unless startled, they showed a lot of confidence and rarely do they show fear.
We made it back across the creek just in time. Since the tide was moving in, the water was deeper and I was now wading almost armpit high!
I had planned to try some catfishing on the Potomac in the evening. However, I've been up since 5am and we fished all day. I decided to head back to the hotel early and catch some sleep. I never did catch much sleep that night with the vision of the two snakeheads strikes repeating in my head. I wondered if that was my only chance I'll ever have.
July 2, 2012
My 45 min drive from the hotel to Pat's apartment turned into a 1.5 hour drive during rush hour (it started at 6:30am…that's insane!) When I finally arrived at Pat's house, he came with all the gear ready to hit the water. We decided to start the morning fishing on the Potomac River for snakeheads. Pat has a few spots that produced in the past on higher water tides.
We both put on Pat's favourite lures and started to work the banks. We would cast parallel to the shore, working from very tight to shore to out in the depths. Snakeheads often sit very shallow and tight to shore. We worked a good section of shorelines and Pat caught a couple of bass but no snakehead.
We finally arrived at this little cove. The cover had some deadfalls with two big logs on either side of the cove. Pat worked one side while I worked the other side. On one cast, Pat saw the mouth and gills flared open on his lure as a snakehead grabbed and missed the lure. He had this fish came out against the log. I immediately threw a few casts against my log. On one cast, I aimed the lure to hit just beyond the tip of the log and in line for the retrieve to pass right between two submerged branches. Just as the lure passed the first branch, I heard a big explosion and my rod loaded up! I set the hook for security and it was on! At this point, I was not sure if it was a snakehead or not, but the muddy bottom was completely stirred up by the fish. Finally, I saw a long shape! My heart was pounding and my knees were shaking! I told Pat it was a snakehead and he ran over to help with the landing. The fish didn't want to cooperate and wriggled out of Pat's grip. I was so afraid the hook may come out, but Pat finally got a good hold of the slimy fish and we walked well away from shore with it.
YES!!! Northern Snakehead!!! This was my premier freshwater target of this trip. There is no word to describe the feeling at all!!! Species #225 – Northern Snakehead (Channa argus)
The pattern is so freaking cool! And it was a nice specimen as well. As Pat describe, this is truly THE roughfish trophy for roughfishers!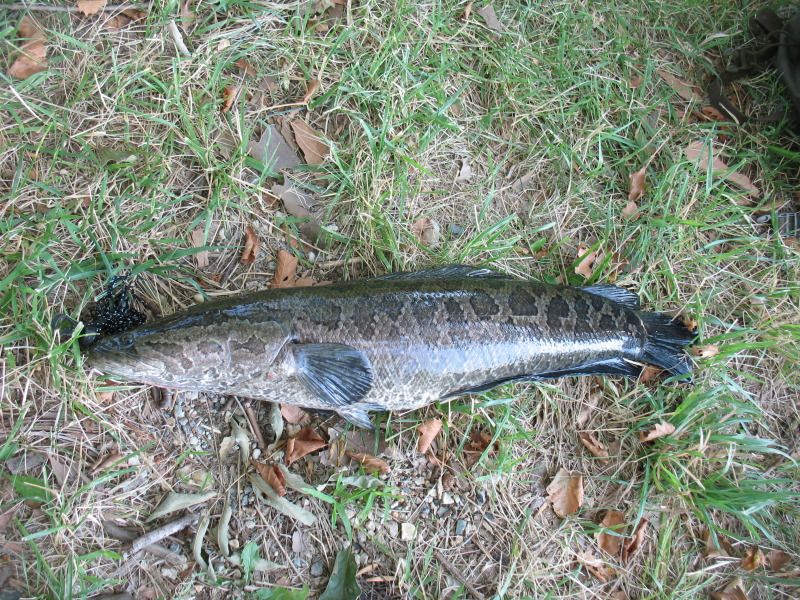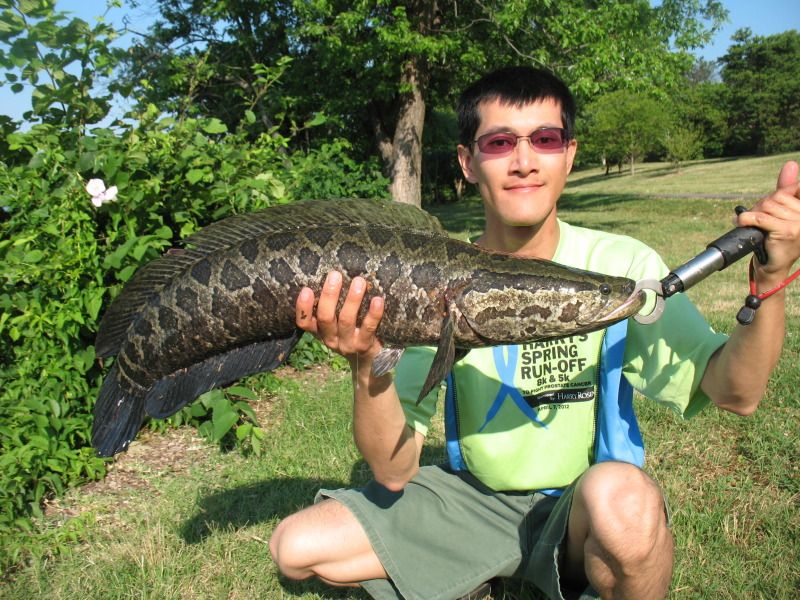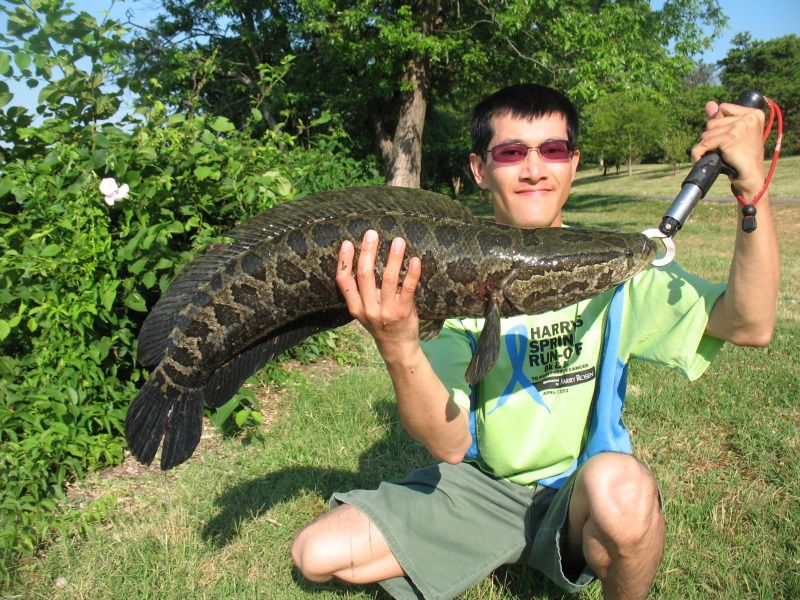 Pat said that just as I hooked my fish, he had a fish missed his lure too. We worked the area after the photo session but didn't get any more hits.
So we moved on downstream. Pat made one cast out from shore and got nails with a snakehead too!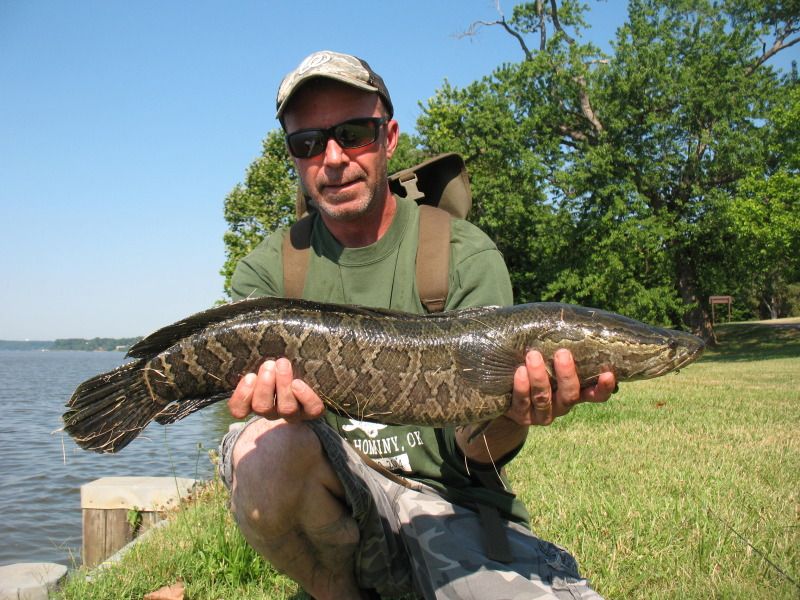 Pat and I split apart for a while checking out different waters. I saw a surfacing snakehead but that fish didn't want to play. Pat also saw another snakehead that refused to hit.
With snakehead checked off, we decided it was time to try for a Blue Catfish. We don't have Blue Snakehead in Ontario so it was definitely something I want to catch. The Potomac has lots of them to the point of annoyance from these introduced fish. Pat caught a couple of white perch to use as cut bait and I rigged up with a 2oz bank sinkers, 15lb mono leader and a 5/0 circle hooks. Although I had a couple of pick ups, the fish dropped the bait in both cases. At about 12:15pm, we decided to have lunch before checking another spot for Blue Catfish.
After lunch, Pat and I walked from our cool little burger joint to the shored of the Potomac, right across the Washington Memorial.
Pat caught a bluegill and I cut a chunk and cast it out. There wasn't much going on but the sunfish, white bass, yellow perch and even a channel catfish gave Pat some fun. About an hour later, I finally had a bite but the circle hook didn't set. When I reeled in, I found the chunk of bait had wrapped around the hook point.
I tried fishing shallow since Pat caught the channel catfish in close. It was soaking for a couple of minutes and Pat suggest I should really fish deep since Blue Catfish prefers deeper water. As I was reeling my bait in, it was hit but the hook did not set.
I made a cast into deeper water again. About 15min later, I finally got a good run. I tightened the drag and felt the fish. I sweep the rod to set the circle hook but then it felt slack. I thought the fish may have dropped the bait again, but apparently the fish was just running at me. After a nice little tussle, I saw a catfish in the water. The slate bluish grey suggest that this would be my first Blue Catfish! Species #226 – Blue Catfish (Ictalurus furcatus)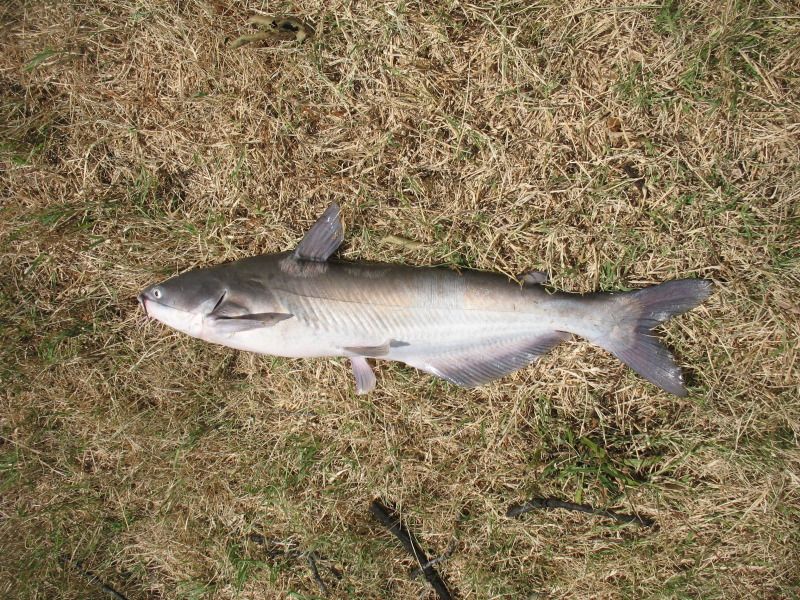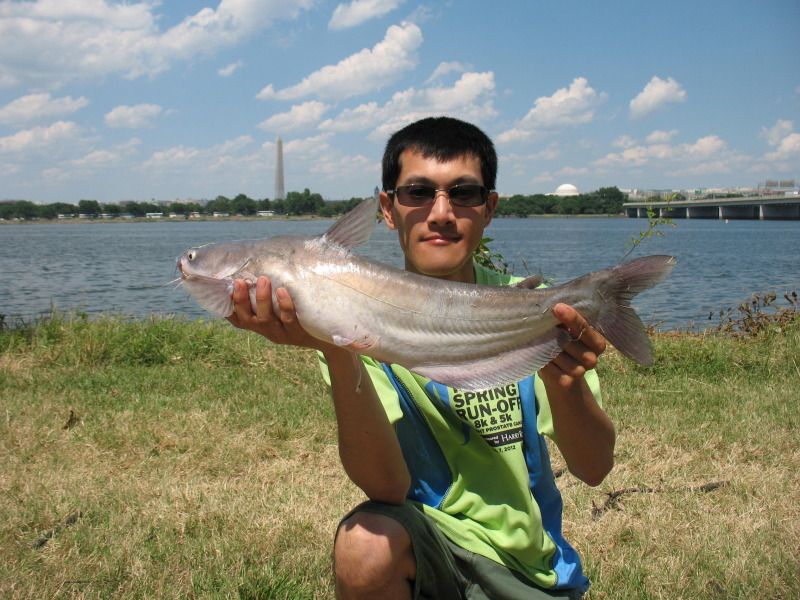 With the two top freshwater water accomplished, we decided to go fish the creek again. There were still two more species I want to check off – the Tessellated Darter and Yellow Bullhead.
Pat let me try out his tanago rod rigged with the special small tanago hooks. This setup is the absolute perfect method to catch many of the small fish species. After trying it out, I want one now LOL.
The difficulty in catching the darter is really to avoid all the shiners that swarm any bait presented in the water. I found a little spot where there were no shiners. When I presented the bait gently into the water, one darter came over and showed interested. They had this interesting behaviour where they appear to poke their head in front of the bait before flaring the gills and fins to take the bait. I saw the bite and quickly set the hook! With the limber tip of the tanago rod, you could even feel the little fish bite! Species #227 – Tessellated Darter (Etheostoma olmstedi)!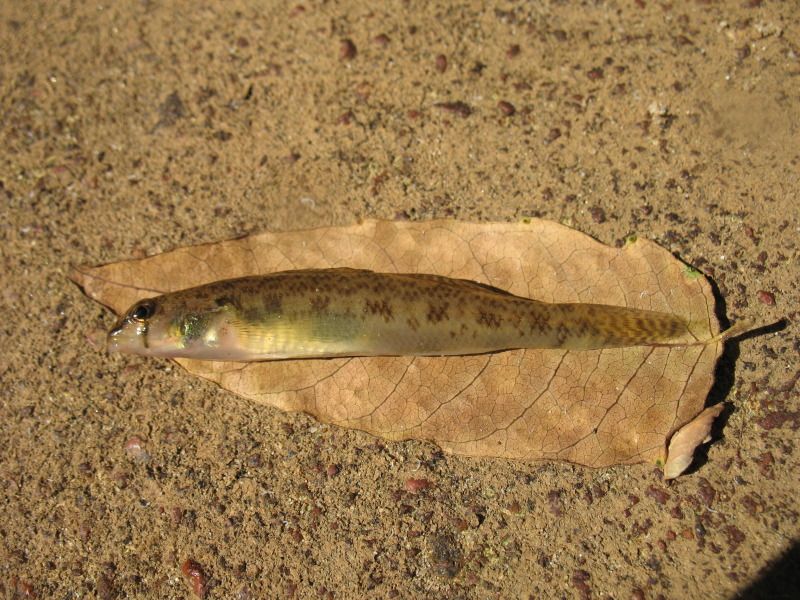 With the darter checked off, I returned to the hunt for a Yellow Bullhead. Although they can be found in Ontario, they are very elusive. I put on a 1/32oz jighead and put on a whole red wriggler. I quickly spotted a Yellow Bullhead under the rock and dropped bait into the area. I lost sight of the bait as there was another boulder blocking my view, but my line tightened and I set the hook. I could see the bullhead struggling in the water and finally I caught my Yellow Bullhead! This was high on my list since this was probably my best chance to catch one. Species #228 – Yellow Bullhead (Ameiurus natalis)
We played around the creek some more catch Redbreast Sunfish, Bluegills, Satinfin Shiner and Swallowtail Shiner. Pat thought he saw some Blackchin Shiner. Both of us tried to see if we can get them to hit and hooked. I finally had one hooked but it wriggled off the hook before I can get a good look. Pat thought he had one but it ended up being a Creek Chub. At about 6pm, I had to get ready to pack and leave.
However, Pat suggested that I should try a little creek for a few minutes to see if I can add a couple of micro species before leaving.
We drove over to the little creek and a short hike later we were looking at a school of Mosquitofish. They were very eager to bite and it took very little to add one more species! This is for sure the smallest species I've caught thus far. The female was only 1" long! It was way cool to target and catch such as small fish! Species #229 – Mosquitofish (Gambusia affinis)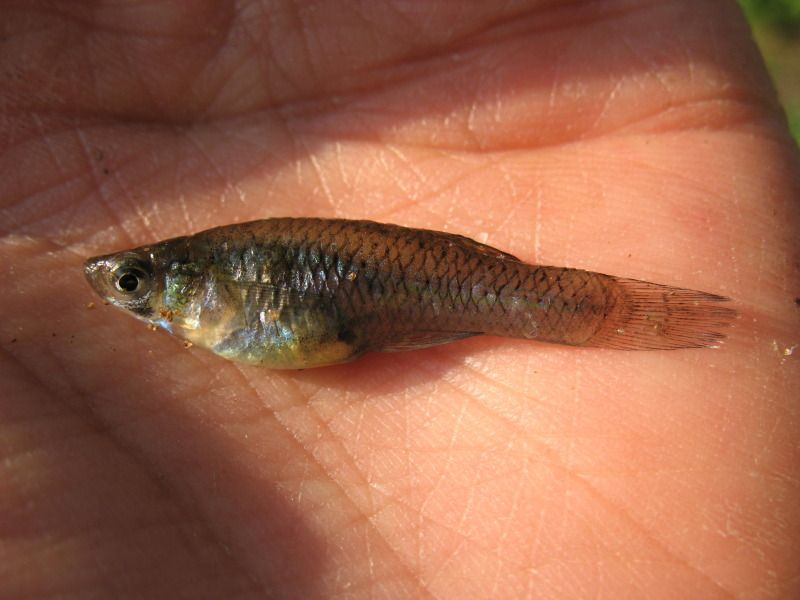 We looked across the creek and found some fish near the margin of shore hiding among some emergent plants. It took a few tries since the sunfish were relentless, but finally, I caught a Banded Killifish! Pat said there were lots in this creek but he didn't spot any good number of them. I managed to find this one among a school of juvenile Largemouth Bass and sunfish. Species #230 – Banded Killifish (Fundulus diaphanus)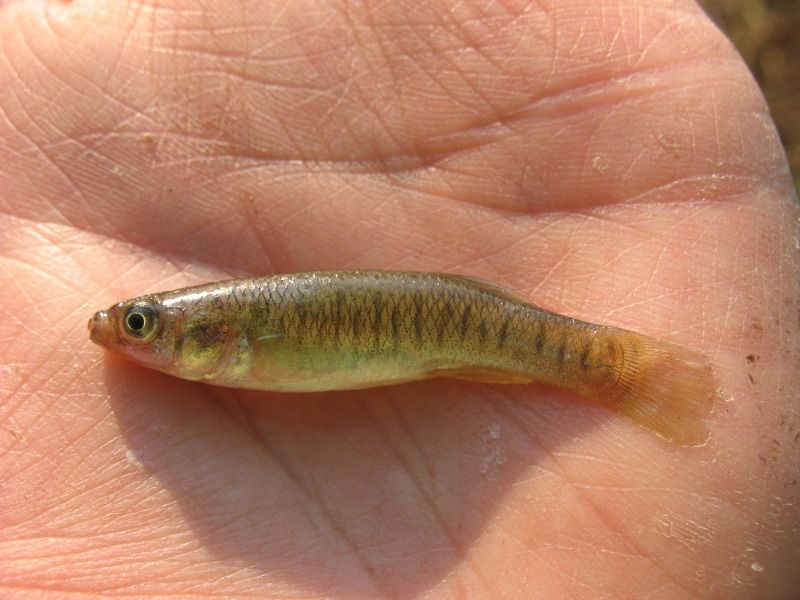 With that last species, my trip came to a close. I packed my gear in the parking lot and Pat offered me a shower. We loaded some pictures onto Pat's computer and at 8pm, it was really time to go. I thanked Pat again and suggest again that he should visit me soon so we can chase a few new species for him.
At 9pm, I finally returned the rental car, took the Metro to Union Station, grabbed a McDonald dinner and finally boarded the bud at 11:45pm. The ride back to Toronto was fairly on time. We were only 30min late and that's pretty good.
I had such a fun and productive trip! The bus ride was certainly interesting and the camping was another one of those trips-from-hell in my bucket list LOL. The fishing was phenomenal in the sense that all my major targets were properly targeted and caught! This was very rare since most times my target list is long and most of the targets were left unachieved for one reason or other. This time, Pat's expertise and perfect conditions made everything happened according to plan. I can't thank Pat enough for making this trip a dream come true, especially the awesome Northern Snakehead and Blue Catfish that has forever been etched in my mind!